Ask The Wedding Planner
Ask The Wedding Planner is your chance to ask us wedding planning questions. We love to hear from brides and grooms (and anyone else) who have questions about planning or attending a wedding.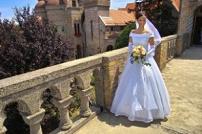 Ask Us A Question
Step 1:Visit our Wedding Planning Forum to view questions that were previously submitted.

You can also use the search box above to see if your question has already been answered on the site.

Step 2: If you didn't find an answer using the search above, proceed to the next section, and ask your question!

Step 3: Ask A Question, Answer A Question! Lastly, please take a moment and comment on other questions listed below. Help out other brides, and they will help you!
Have A Wedding Planning Question?
Ask us a question you are battling with while planning your wedding. Any wedding topic is acceptable, and feel free to add photos as well.


What Other Brides Have Asked
Click below to see contributions from other brides to this page...