Choosing My Wedding Colors
by Jessica
(Missouri)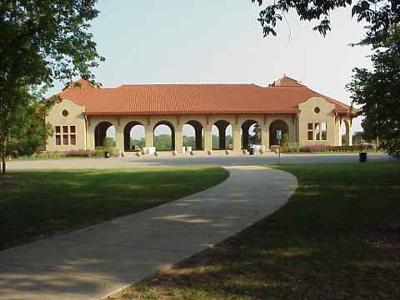 Our venue!
I'd love input on wedding color palettes you think would look nice!


Here's the deal: We're getting married at the World's Fair Pavilion early next September. It's a huge, pretty, covered pavilion that looks a little bit castle-y. The walls, floor, etc. are neutral shades of taupe and brown, and the ceiling and roof are a reddish color.
So the question is ... what color palettes would look good? We're having an evening wedding, and we tend more towards formal and glam. Also, I speak Spanish and have studied abroad in Costa Rica, and the architecture of our venue seems a little bit Spanish-inspired.
Can't wait to read any suggestions!
Our Thoughts
First, your venue is just beautiful and with the neutral coloring in the space you truly can run with any color palette.
With that said you need to really find what excites you when it comes to wedding colors, and build your
wedding theme
around the colors. It sounds like you can truly celebrate by enveloping a bit of the Spanish/Costa Rican culture around your day like you mentioned above.
You can add a little fiesta flair by choosing a vibrant color palette - something that shouts we are having a party over here! Bring in brilliant light blues to be reminded of the sky and ocean fronts in Costa Rica.
Bright pinks, pastel soft purples with lime green can help create a carnival feeling to the atmosphere. If this is too bold for you both, then go more simple and go with an ice blue and a lime green combo to add life to your
wedding reception
.
Carry over the colors throughout your wedding day by adding the accent colors in your bouquets and
wedding favors
. Go crazy and add colored up-lighting around the structure in the same colors, and by the evening your wedding reception space will be spectacular.
Small details like making sure your
reception menu
reflects the feeling of carnival by including authentic Spanish food and a
signature drink
will really make your event a big hit.
The sky's the limit, so have fun with it! There are many options to play with here, so please let me know if you have any additional questions or need more help by leaving a comment on this page.
Regards,
Danielle