Top Tips For A
Wedding Centerpiece Idea
If you are reading this, you most likely need a wedding centerpiece idea. Selecting the right centerpiece can really add some class to the overall feel of your reception.
Choosing a wedding centerpiece can be a bit challenging sometimes, but with a little thought and creativity (and our help hopefully!) you can come up with an exquisite centerpiece for your wedding reception.
As with other details of your wedding, there is no standard way to design your wedding centerpiece. Don't be afraid to get creative and do something a little differently to show your personality.
Here are some ideas to get your mind moving:

Flower Centerpieces

Traditional wedding centerpieces are usually flowers or candles; however, they do not have to be boring! Visit Wedding Floral Centerpieces for some great hints and ideas.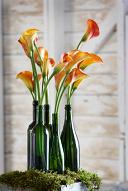 Centerpiece Ideas
Hurricane Centerpieces
This is one of our favorite items for a wedding centerpiece idea because there is so much you can do with hurricane lamps. Visit
Hurricane Wedding Centerpiece
to find ideas for your wedding.
Seasonal Centerpieces
In the fall, pumpkins make a great wedding centerpiece. You can carve one per table, or just place an arrangement of small pumpkins and gourds in the center of each table.

For more ideas visit fall wedding centerpieces.


At Christmas time gingerbread houses make a fun centerpiece. Visit our Christmas Wedding Centerpieces page for more ideas.


In the summer shells, lighthouses and other warm weather items make fun centerpieces, especially if you are getting married near or on the beach.
Candle Centerpieces
Candles are a favorite centerpiece item for many brides.
Wedding Candle Centerpiece
can help bring your ideas to reality. Another option is
floating candle wedding centerpieces
.
Combine Centerpieces With Favors
Your centerpieces can double as your wedding favors.
Wedding Favors and Centerpieces
has 10 ideas for you.
Unique Centerpiece Ideas
One couple we worked with wanted their guests to play board games at the reception, so each table had a different board game that everyone played after dinner. It went over very well, and the guests had a blast.


Replicas of monuments or buildings make an interesting wedding centerpiece. Ideas include the Eiffel Tower and Empire State Building.


Wedding cake centerpieces are a unique alternative. Have a 12 inch decorative wedding cake atop a silver pedestal in the center of each table at the reception. When it is time to cut the cake, have your guests join you by cutting their own cake.
Use your imagination and come up with your own creative wedding centerpiece idea. Visit
The Knot Wedding Shop
for more great ideas.