Photos And Ideas For
Fall wedding Centerpieces
Fall is a great time to get married, and fall wedding centerpieces are an important part of your reception. As you will see below, there are several fun, creative options for you to consider.
If you have chosen a fall wedding theme, you will want your centerpieces to blend in with your overall wedding theme and your wedding colors. Don't be afraid to be creative when designing your centerpieces.
Listed below are a few autumn ideas that you can use for inspiration.
Floral Centerpieces
Flowers are always a favorite for centerpieces in any season, and there is good reason for that. Autumn offers many colorful, seasonal choices for fall wedding flowers that can help brighten up your wedding reception.

Popular flower choices for fall include hydrangea, sunflower, autumn leaves and roses. Let the rich fall colors work for you when designing your centerpieces.


Photo courtesy of christineinca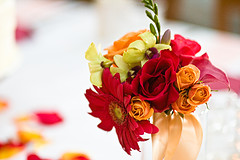 Photo courtesy of Sarah Mcgee Photography
Visit
fall wedding arrangements
for more floral ideas.
Add Fall Accent Items
The autumn harvest season brings with it many items that can be used in fall wedding centerpieces. In addition to flowers, consider adding items like pine cones and coffee beans to vases and other containers.


Photo courtesy of wedding chair covers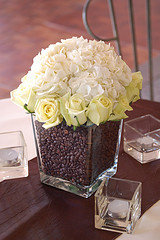 Photo courtesy of details of the day
Try to match your chosen accent items with the
fall wedding theme
you have chosen.
Apples
Apples are a sign of fall, and they work really wedding in centerpieces. You may even want to consider using them by themselves in a bowl without any flowers.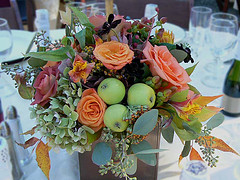 Photo courtesy of christineinca
Bright red and green apples work perfectly for an autumn event. You can try using these colors as part of your wedding colors or as complimentary fall wedding colors.
Pumpkins
Pumpkins are another great autumn harvest item that make terrific containers and accent items for your centerpieces.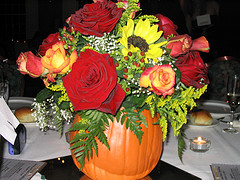 Photo courtesy of jlbruno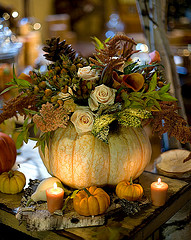 Photo courtesy of oldtownflorist
If you are having a Halloween wedding you can even use jack-o-lanterns as your fall wedding centerpieces.
Wine or Vineyard Wedding Theme
Another popular option for a fall wedding is a wine or vineyard wedding theme. Add wine bottles or other wine related items like corks to your centerpieces for a unique touch.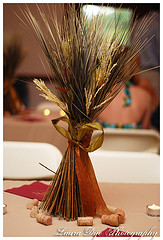 Photo courtesy of laura dye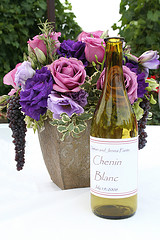 Photo courtesy of el fattal
In addition to flowers, wheat and other grasses help set the tone for your fall wedding.