7 Tips For
Wedding Reception Food
Wedding reception food is one of the most important parts of your wedding day.
Great food
can make your reception one that your guests will remember for a long time.
Not only is food important, it can also be very expensive. Starting with a budget helps to keep costs under control. Also, it helps to be realistic when choosing a menu for a large wedding.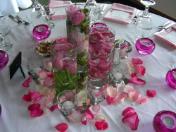 Wedding Reception Food
There are typically three options for where your food is coming from. First, you can have your reception at a space that provides selections that you can choose from for your menu. Second, you can hire a caterer to provide the food, and third you can do it yourself.
Many times the choice depends on where your wedding is taking place. For example, if you are having a tented outdoor wedding you will most likely need to hire a caterer.
Unless you have severe budgetary constraints or have a lot of help, we would not recommend cooking your reception food yourself. There are a lot of other things to organize for your wedding day, so rely on professionals as much as possible in this area.
Here are 7 wedding reception food tips:
Reception Space Or Caterer?
Most reception spaces either have onsite facilities for providing food, or they have contracts set up with one or more caterers that you can work with. Choosing a caterer and menu is a very important wedding planning step.
Take the time to have tastings at reception spaces or with potential caterers. Ask for references that you can call, and make sure you are happy with your choices before finalizing the menu.
Wedding Brunch
Having a brunch wedding reception is the perfect choice if your wedding is early in the day or on Sunday. Work with your caterer to come up with a menu that includes both breakfast and lunch options.
The perfect
wedding signature drink
for a brunch reception is a Mimosa. Brunch wedding receptions may also be a way to cut down on expenses as many sites charge less for early receptions.
Cocktail Hour
Traditionally wedding receptions start off with a cocktail hour. This is the time that your guests will arrive, have their first drinks of the event and a few bites to eat.
Passed hors d'oeuvres, meat carving stations, raw bars and pasta stations are some of the options available. This is the perfect time to have your signature drink introduced to your guests along with other drink options.
Cocktail Reception
A growing trend in wedding planning is the cocktail reception. Often it seems that the best wedding reception food is served during cocktail hour, so many couples are choosing to have an extended cocktail menu for their guests.
This choice allows you to have many different food items to sample, and it provides a more informal atmosphere.
Visit
cocktail wedding reception
for more ideas.
Buffet
An informal option for the main meal is the buffet. You will choose from several main courses, sides and stations, and guests will decide on what they want to eat when their table is called.
If you want to provide variety for your guests, this is a good option for you as they will be able to sample several things and eat as much as they want. Since they are less formal, buffets typically allow more time for your guests to dance and mingle.
They can also be easier on your budget because less wait staff is needed to serve your guests.
Sit Down
For a more formal atmosphere, consider having a sit down dinner. Guests will choose from three entree options when they RSVP, and the meal will be set by the choices you make with your caterer.
Sit down receptions rely heavily on good service to move the meal along. Without it you run the risk of the meal taking too long and taking up time that was supposed to be devoted to other things.
While your guests won't be able to walk around as much during dinner, they will get to spend ample time talking with each other at the table. Because of the extra wait staff needed they tend to be more expensive than the other options.
Cake & Dessert
No wedding is complete without
wedding cake
. When your cake is cut and served you can also serve other types of dessert as well along with coffee, tea and after dinner drinks.
Popular dessert trends in addition to cake are ice cream and pudding bars with all the toppings.