Add A Twist To Your Big Day
With Wedding Signature Drinks
Wedding signature drinks have become a hot item in the world of wedding planning.
They are a great way to show your personality and uniqueness, and brides and grooms everywhere are inventing drinks for their wedding.

The base of wedding signature drinks is often a classic cocktail like a martini. However, options for signature drinks aren't limited.

Almost any type of alcoholic (or non-alcoholic) drink can be signature drink, including mojitos, pina colodas, manhattans, margaritas and any other type of cocktail.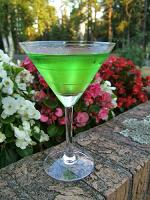 Martini Signature Drink
Ideas for Wedding Signature Drinks
Try to match your signature drink with your wedding theme. For a summer-themed wedding, for example, you may want to go with a mojito or a fruity drink like a mango martini.


You can also match colors from your wedding with the color of your signature drink, like a blue martini for example. Experiment with different combinations of ingredients to come up with the right shade.


Once you have your drink picked out you can also create a unique name for your cocktail. For example, instead of watermelon martini, call it a Ginatini or Lauratini. Nicknames can also be used.


It is also OK to have more than one signature drink, such as a martini menu or one for the bride and one for the groom.


For the reception have printed signs in frames placed on the bar announcing your signature drink so your guests are aware of it. You could also have menus printed if you are having more than one signature drink.


If the bar staff is talented and daring enough, have them build a martini glass pyramid on the bar filled with your signature drink.


Work with your caterer, wedding planner or wait staff to come up with ideas.


Don't be afraid to spend some time researching signature drinks. Get a few friends together at your place, break out the bottles and start mixing drinks.
Wedding Signature Drink Examples
Listed below are a few of the signature drinks we have come across:
Apple-themed wedding
Apple Martini
2 oz. Vodka
1½ oz. Sour apple liqueur
½ oz. Lemon juice
Apple slice for garnish




Christmas-themed Wedding
Candy Cane Martini
½ oz. Vodka
½ oz. Absolut Peppar
1 oz. Sambuca
1 oz. White creme de menthe
1 oz. White creme de cacao




Asian-themed wedding
Saketini
6 parts gin
1 part sake
Lemon twist wrapped with Pickled ginger


Green Tea Martini
1 oz. green tea, chilled
2 oz. citron vodka
1 teaspoon Cointreau
1 teaspoon simple syrup
Orange twist



Beach-themed Wedding
Mojito
1 part Rum
3 parts Club Soda
12 Mint Leaves
1/2 Lime
1/2 Part Sugar

Mai Tai
1 oz. Dark Rum
1 oz Light Rum
1 oz Orange Curacao
2 oz Orange Juice
1/2 oz Lime Juice
Dash Orgeat
Dash Simple syrup (bar syrup)




Russian-themed wedding
Vodka bar
At the reception, have a bar set up offering different types of Vodka for tasting and mixing of drinks. For something more elaborate, consider having an ice bar or ice luge.




Other ideas
Chocolate Martini
6 parts vodka
1 part chocolate liqueur
Chocolate curl

Classic Martini
2 oz. Gin or Vodka
2 drops Dry Vermouth
Garnish with olive or lemon twist