Wedding Pew Bow
by Erica
(East Coast)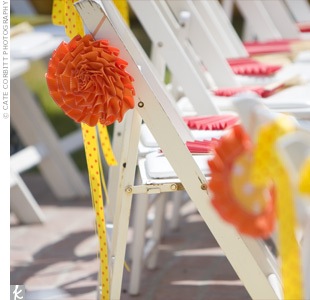 Pinwheel bow?
Hi,


I am trying to help my sister locate the name of the wedding pew bow pictured. We found this photo on the internet but it was titled "paper pinwheel."
I have looked all over and I can not locate anything similar under this title. Any chance any of you know what this is called or how to DIY?
Thanks,
Erica
Our Thoughts
Erica,
With looking at the photo provided, I am going to gather that this pew bow is an amazing origami paper flower, made with a high degree of difficulty.
My suggestion would be to locate a local artist or search for an online vendor who specializes in the art of Origami. Get a price quote on that exact flower and go from there.
If it turns out to be too expensive, you can buy "How To Origami" books at most book stores. Also, check your local newspaper or websites like Craigslist for a local origami class.
You may find that one of you turns out to be a fantastic paper artist, or you may choose to go with a more simplistic version of the original.
Either way I am sure you will have fun and make some beautiful flowers in the process. Good luck!
Regards,
Danielle