Bridesmaid Flowers
by Cyndi
(South Australia)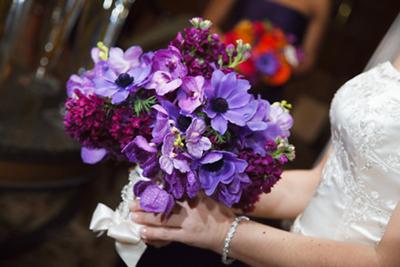 Beautiful bouquet with purple flowers
We are having a garden wedding! I myself will be wearing ivory so when it comes to my bouquet I can have a range of colours. But, my bridesmaids are wearing deep plum (berry), and when I say deep plum I mean DEEP. I would like to soften things a bit!


I was thinking of just have cream coloured flowers but then thought they should have a little touch of colour.
Does anyone have any ideas or photos of the round bouquets with cream flowers and a touch of colour, something to go with the plum?
My bouquets will be cascade/ teardrop shaped. Not sure on exact colours yet but will have tiger lilies, roses & Singapore orchids.
Our Thoughts
Color is definitely in, so we would recommend going with at least a little bit of color for the bridesmaid's bouquets. There are many beautiful shades of purple and pink that can compliment your chosen color.
Don't worry about matching up flower colors exactly with the color of the dresses. Salmon, hot pink and fuchsia are popular colors right now that work well together with different shades of purple.
We actually just planned a wedding for a couple that used similar colors. We added a photo above of the bride's bouquet (you can see more photos from that wedding at our Facebook page
here
).
You could go with mostly cream colored flowers with a sprinkle of colors as we mentioned above, or you could be bold and have a mixture of purples and pinks to compliment the bridesmaid dresses.
To Your Wedding!
Danielle & Stephen