Blocking Rooms For Wedding
by Rebecca
(Chicago)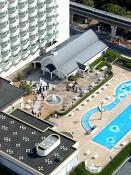 Wedding Hotel
I live in Chicago and am planning a wedding in Kansas. All of our guests will be flying or driving in for the event. Our rehearsal dinner is on a Friday and our reception is at a hotel on Saturday. Our wedding is four months away and I called the hotel that our reception is at to at least block off ten rooms for the wedding party for both Friday and Saturday.


The hotel proceeded to tell me they will waive the attrition clause if we only block ten rooms and have a block off date of 3 weeks before the wedding. However, they won't let me block off rooms for Friday. I want the wedding party to be able to stay both Friday and Saturday as it will be a hassle to switch hotels, and it is convenient to stay at that hotel since that is where our reception is.
Is there anything I can say to persuade them to let me block of rooms Friday and Saturday? We are spending a large amount of money with them for our reception and I do not feel they are being very accommodating. Please help as I feel like the hotel is not being honest and are being very vague on their policies and whether they can make exceptions? Also, I do not want to be stuck with an attrition clause and paying for rooms that may not get booked? How do I get out of this?
Our Thoughts
Rebecca,
You are correct, the hotel is being very unreasonable, and this is not a common practice among hotels. The only reason they should have a problem blocking off Friday night for you is if the hotel was already sold out, but it doesn't sound like that is the case.
First, talk to the banquet and/or event manager at the hotel. You are spending a lot of money at the hotel for your reception and the rooms, and they need to work with you.
If they don't want to help, go above them to the next level of management. Always act in a professional manner when speaking with management, but be sure to get your point across that you expect to be taken care of for both nights.
In fact, many hotels will also throw in a suite for the bride and groom if you book a certain number of rooms. It doesn't hurt to ask if you can get a free room or upgrade in exchange for filling the rooms for them.
Hotels will typically have a clause for over a certain amount of rooms, like 30 for example. If you want to make sure the rooms are booked, get the word out immediately to your wedding party and guests. Post it on your wedding website if you have one, and include a note in your invitations asking them to book by the cutoff date.
To your wedding!
Danielle & Stephen