Cinderella Wedding Theme Colors
by Wennetta
(Baltimore MD)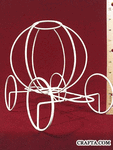 Hello, my name is Wennetta and I am a DIY bride. My wedding is September 18, 2010, theme is Cinderella and my colors are royal blue, white,& silver.


I am not sure which should be the accent color white or silver? The flowers: I am using carriage centerpieces (low,)and I'm thinking of using white flowers.
Should I use blue as well because I was going to use royal blue, silver satin ribbon to decorate it? My main flowers are roses, and I don't want to drown it in blue.
Our Thoughts
You cannot go wrong with either color as your accent color, but I would lean towards more white than silver.
Use the silver sparingly since sometimes metallic colors can make a wedding look a little chintzy if there is too much sparkle going on. So using the silver ribbon on the centerpieces would be the perfect amount to add the sparkle and shine.
With the floral centerpieces I would either do all white, or I would mix the white and blue equally. Here is a thought - you could have one table in all white florals with a royal blue ribbon and then one table in all blue florals with a silver ribbon.
Having slightly different centerpieces helps make a space more interesting and gets your guests talking about how different each table is. It helps create a design buzz.
If you haven't already, take a look at our
princess wedding theme
page for more ideas.
Warmly, Danielle