Renewing vows
by Ellie Barber
(Calgary Alberta Canada)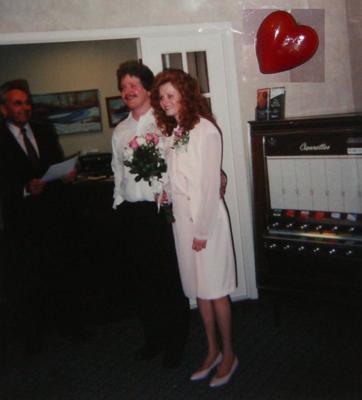 Our original wedding photo
My husband and I have our 30th anniversary of being together coming up. After living together for almost 10 yrs, we have been married for 20.


My ceremony was a small civil "spur-of-the-moment-that day" one with a justice of the peace who had his office in the luxury hotel I worked at, with a small reception about a month later. My dress was a suit type peach dress (the only thing I could find in the 4 hours I had to prepare), but I never got the lavish wedding or dress every girl hopes for.
My question is...if we were to renew our vows, what kind of event should I put on? And what kind of dress would be appropriate?
Our Thoughts
Dear Ellie,
Let me first start off with a BIG congratulations on 30 years! It is so nice to hear such a BIG number and I am so thrilled you are looking to renew your vows to celebrate such a wonderful milestone!
Second, thank you so much for sending along the photo from your original day! The photos are precious, and I so love the peach dress!! Thank you!
Now to the meat of your question. I would tell you from what I am sensing from the tone of your question is to go BIG with this wedding! Create the day that you would have wanted 30 years ago.
Go and find that
wedding gown
and have the wedding ceremony you did not have and really celebrate with a kick butt
wedding reception
. Forget all the supposed rules and wedding etiquette. You have earned your day girlfriend! Go and enjoy every minute of the day the way you both dreamed it would have been years ago.
Please. send me new photos of your renewal celebration. I am sure they will be just as fabulous as the first ones!
Regards,
Danielle