Finding The Perfect
Second Wedding Dress
So, you have decided to get remarried, and you need second wedding dress ideas. Since you have already done this once, you should have some idea of what to expect when you venture out to find that perfect dress.
However, things are a little different the second time around. You are more mature, you have a better idea of what you want and overall your stress level should be lower (hopefully).
You may want to go with a dress that is
more casual
than your first, or maybe this is your chance to have the formal wedding you never had. We are here to help guide you on your way to finding your perfect dress for your second wedding.
For more ideas and hints for second weddings, be sure to visit our
2nd Wedding Ideas
guide.
Second Wedding Dress Styles
You have a lot of options available to you the second time around. First weddings typically mean traditional, formal gowns that are usually white.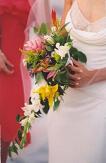 Second Wedding
For your second wedding there are not any rules written in stone. Most brides opt for a more casual dress for their second wedding; however it is perfectly alright to wear a formal gown if you want to.
A
tropical
or
beach casual
wedding dress is the perfect example of a popular choice. They are typically halter, spaghetti strap or strapless and on the less formal side.
Your second wedding is your chance to really let your personality and style shine through. You are older and have a better idea of who you are. Have some fun and get creative!
Is It OK To Wear White?
In generations past it was not considered good
wedding etiquette
for a second bride to wear white. Things have changed, however, and in today's society it is absolutely OK if you want to wear white.
Some brides opt for different alternatives to white like cream, red or even a
black wedding dress
. The choice is really up to you, but the dress color you choose should match your overall wedding theme and style.
Anything Else I Should Know?
Don't limit yourself to just bridal stores when searching for your second wedding dress. Check department stores and other dress shops as well as
online
.
Most second brides forgo the veil and other traditional items like garters. Again, if this is something you want to do it is perfectly OK to do so.
Make sure you match the rest of the bridal party. If you are going casual, your bridesmaids should also. Same thing with the men of the wedding party. Tuxedos would probably look awkward if you decided to go the casual route.