A Tropical Wedding
Dress That Sizzles
A tropical wedding dress is the perfect fit for a destination wedding on the beach or any tropical location. As with any type of bridal gown, do your research to find the one that is perfect for you.
In general most brides choose a dress that is a little more relaxed and casual for a
tropical
or
beach
wedding. White is a popular color choice, and the dresses are of varying lengths but usually without a long train.
There are a few other things to consider in addition to your dress. Shoes are an important part of your wedding attire, and high heels are not the best choice if you are getting married on the beach.
Tropical Dress Tips
Look for sandals, flip flops or flats that are comfortable and match the style of your dress. You can also go barefoot or add foot jewelry for a nice touch. Visit our
Beach Wedding Shoes
guide for more ideas.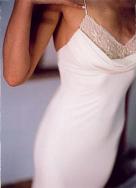 Tropical Dress
Instead of a veil or tiara, have tropical flowers added to your hair. Another option is to wear a haku wreath (flower wreath worn around the head) or a lei.
Also, watch out for tan lines that you may have gotten over the summer that will show when you wear your dress. Consider going to a tanning salon and getting a real or spray-on tan prior to the wedding if you are concerned about not looking tan in your dress.
There are several different types of dresses for you to choose from. Below we have listed the most popular choices for a tropical wedding dress.
Halter
,
Spaghetti Straps
and
Strapless
are always popular choices.
Here are a couple more unique ideas:
Sarongs
Perfect for a casual beach wedding, you definitely have to be comfortable with your body to wear a sarong wedding dress. They come in many different colors other than white, such as lavender and green, and floral patterns. Sarong styles include 2 or 3 piece sets, halter, one shouldered, strapless and strapless bra.
Hawaiian
Go casual or formal with a Hawaiian bridal gown or Holoku as the locals call it. Many have designs or tropical wedding flowers running throughout them, and they come in different styles like strapless and halter. The best part is that you don't have to get married in Hawaii to wear one!
Where To Find A Tropical Dress
There are many specialty stores that sell beach and tropical gowns, and you may be able to find the best deals online. There are many websites that sell tropical gowns, but be sure to read reviews and do your homework before buying online.