Fun Ideas For A
Beach Casual Wedding Dress
A beach casual wedding dress is the perfect fit for a tropical, beach or destination wedding.
Casual beach dresses are typically white, ivory or champagne, but you may also want to choose a dress that has an accent color to match your wedding colors. As with any type of dress, try to choose a dress that you are comfortable wearing and a style that compliments your body type.
There are several
fun
styles to choose from for a casual wedding dress, and buying your dress online can be easy and many times less expensive.
Also, don't forget about
beach wedding shoes
to finish off your attire for your big day. Below are some common casual beach wedding dress styles.
Strapless
Strapless dresses offer an elegant look, and they are a great way to show off your toned arms and tan. This type of dress typically works well with brides that have a larger bust.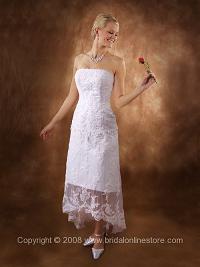 Whitney Wedding Gown
Halter
Halter top dresses have straps in varying widths that attach at the back of the neck. They work well with women who have small to medium size busts.
Spaghetti Straps
Sexy and elegant, spaghetti strap dresses offer elegance with a little support. The straps are often very thin but enough to keep your dress in the right place.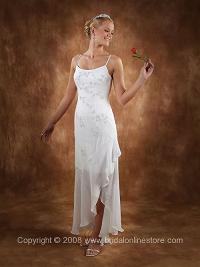 4031 Wedding Gown
Shorter Dresses
Dresses that are shorter in length offer a chance for you to show a little leg while enjoying your day on the beach.