Be Unique With
A Black Wedding Dress
If you are looking for something totally different and non-traditional, a black wedding dress might be perfect for you. While it might not be for everyone, they are a growing trend among brides that are looking for something different.
Since this is such a unique idea, we decided to gather information directly from the source - a bride who wore a one to her wedding.
Louise and Brice are originally from Cape Town, South Africa but are currently living in the U.S. When we started doing research for this page, we stumbled upon their myspace page.
We were so excited to see that Louise chose a black wedding dress that we asked her if she would answer a few questions for us.
Luckily she said yes! The results of that interview are below.
Why did you choose a black wedding dress?
"Well I wasn't originally going specifically for a black dress. My then fiancé and I were looking for dresses in Florida and I didn't really want a white dress because I knew it would make me look huge! I was trying on dresses in a boutique and he was just handing me different kinds when I tried the black and pink one on.

It was a bit snug but I knew it was the perfect dress! So we got it (breaking another tradition by him seeing the dress before the wedding!)."
What Were The Reactions of Family and Friends?
"My father and mother weren't too impressed my father particularly wanted a traditional wedding with the whole church and wedding march etc etc but we figured we paid for the whole thing, we're not big church goers so why do what other people want! Everyone else didn't really mind either way.

We did signed the papers in a tiny chapel in the morning (in jeans) and then later in the day had the ceremony on the beach (in South Africa) so it definitely wasn't the traditional wedding!"
Would You Do Again If You Had The Chance?
"I'm still really happy the way things happened. I mean I look back and there are a few other things I would have changed but not the colour scheme! My maid of honor wore a beautiful pale pink dress (that she can wear again) the men all had black shirts and pink ties and hopefully I might get to wear my wedding dress again!

My feelings are that you have this one day to share with our family and friends and it's for you and your husband (or wife) do what you want to do not what other people want. And if that means a white dress then go for it, but don't do it just because you have to!"
Where Did You Find Your Black Wedding Dress?
"I got the dress from a shop called Cache' in The Gardens Mall in Palm Beach FL (it was like $400 I think)."
Thanks again to Louise for all of her great information!
There aren't as many options when trying to locate a dress of this color. Below are a few examples of black dresses.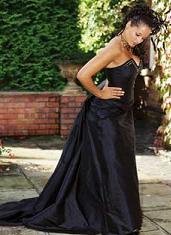 Zena - Just Brides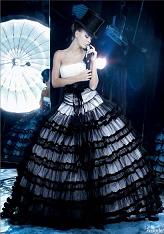 Max Chaoul Couture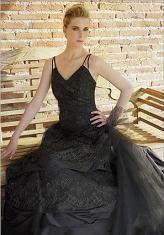 Creations Bochet