Create A Magical
Ocean Wedding Theme
If you love the sea, an ocean wedding theme will turn your big day into a magical event. There are many things to love about the ocean, so use it to create a romantic wedding day.
Similar to a
beach
or
nautical
wedding, an ocean wedding theme allows you to be creative.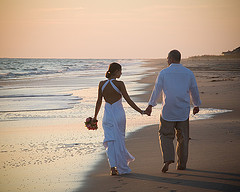 Photo courtesy of Lem Lynch
Whether you want to go all out with an under sea blowout or just add touches of the throughout your day an ocean theme gives you great starting point for creating a fun maritime wedding event
Below are some ocean wedding theme ideas to get you started. As you will see, this page contains a lot of information, so you may want to bookmark it so you can easily return.
Locations
For an ocean wedding theme you will most likely want to be on or near the ocean when you celebrate your big day. There are a few really good options for locations.
Having both your
ceremony
and reception on the
beach
can be very romantic. Or, you can choose to say your vows in a church or other religious location and just have your reception on the beach.
Nautical weddings
allow you to set sail and have your wedding on the water. The boat captain can make it official, and then you can have your reception party right there on the boat.
Having your wedding on a dock or pier over the water is a great way to get close to the ocean.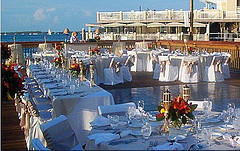 Photo courtesy of BeachWest
Destination weddings are a popular choice, so even if you don't live near the ocean you can still have an ocean themed wedding.
Hawaii
and many of the Caribbean islands are always a favorite for weddings.
While having your wedding outside on the beach is a great way to get married, you can also have your reception inside and still incorporate an ocean theme into your day. There are many resorts, restaurants and reception spaces that are near indoors but still near the beach.
Another unique idea is to have your wedding at an aquarium. Many large aquariums allow you to rent the entire location for your wedding.
Invitations
Kick off your ocean wedding theme in style with
beach
or
nautical
wedding invitations. From the start you will set the tone and let your guests know that you are having an ocean themed wedding.
Programs
You can continue your ocean wedding theme with your ceremony programs. Choose a beach or nautical design, or if you are getting married
outside
in warm weather you can also go with a fan wedding program to keep your guests cool.
Attire
Tropical wedding dresses
are typically a little less formal and more relaxed than a traditional wedding gown. Most dress designers have entire lines for beach, ocean and nautical weddings due to their popularity in recent years.
Don't forget your
wedding shoes
which come in several different styles including flats and flip flops that are perfect for outdoor or beach weddings.
You will want your bridesmaid's dresses to be on the same level and compliment your chosen dress. You wouldn't want your bridesmaids wearing formal gowns if you are going with a casual look on your wedding day.
Keep in mind that it may get cool at night if you are having an evening reception on the beach or on a boat, so plan accordingly to have a jacket or other item to cover up with.
For the guys, linen pants and shirts are always popular for a more relaxed ocean wedding. One nice idea is to try to match the guy's shirts up with your wedding colors or bridesmaid dress color.
We have coordinated weddings where the groom and groomsmen wear floral shirts that matched up with the chosen wedding colors, and it looked great.
Reception
Your reception is your chance to have fun and be creative with your ocean theme. There are many items and symbols that can be used in all aspects of your wedding reception.
Examples include nautical flags and ocean creatures like fish, crabs and lobsters. Keep reading to see how ocean accent items can be used in all aspects of your wedding reception.
Flowers
If you are getting married in a
tropical
location, take advantage of the many beautiful flower options available. Work with a local florist or the resort where your wedding is taking place that knows what is available in that area, and use the bright colors and exotic flowers to your advantage.
You can use flowers in all aspects of your decorations including bouquets, centerpieces and just about anywhere you would like a little color.
Centerpieces
Ocean wedding centerpieces are one of your chances to show your creativity. Instead of just plain flower or candle centerpieces, add in some ocean, beach or nautical themed items.
Seashells, lighthouses, sandcastles, anchors and nautical items can help turn a common centerpiece into a beautiful ocean centerpiece. Fruit like pineapples, lemons and limes also make great accent items for centerpieces.
Tiki torches are another fun option, especially if you are having an evening wedding.
Cakes
Your
cake
is another area where you can have some fun. Instead of a plain, traditional wedding cake, have your cake designer or baker add touches of the sea.
Visit our
tropical wedding cake
page for more ideas.
Entertainment
Nothing beats a good band or DJ at a wedding, but if you are getting married in a tropical location take advantage of it. Many islands and tropical locations have a unique sound of their own, so hire local talent for your wedding day entertainment.
For example, in Hawaii have hula dancers teach your guests how to hula, or for a wedding in Mexico hire a Mariachi band to play during cocktail hour.
You can still have a traditional band or DJ and hire unique entertainment for an hour or two or to perform in between your main entertainment.
Favors
If your guests are traveling to attend your ocean wedding you will want to be conscious not to give them a wedding favor that is difficult to take home on a plane. Our
beach wedding favors
page has some great ideas for an ocean wedding.
Signature Drink
A fun, tropical
signature drink
is the perfect way to finish off your ocean wedding theme. The possibilities are unlimited and open to your imagination. Go with a common ocean drink, like a Seabreeze or Sex on The Beach, or maybe something tropical, like a Margarita or Pina Coloda.
Add your own unique twist to your signature drink by giving it a unique name. Instead of just calling a Margarita, call it a "Jenarita" (simply add your name to the front of the drink of choice).