Making Sense Of
Wedding Cake Prices
Wedding cake prices might be a little shocking when you first start looking at what cake you want for your wedding. However, with a little research and hard work you can find your perfect cake.
As with other aspects of planning a wedding, there are many different options to consider when choosing your
wedding cake
. Finding a cake that fits your style and taste is one thing to consider along with how a cake is going to fit into your overall wedding budget.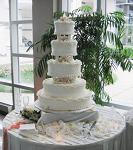 Here are answers to four common questions about wedding cake prices:
How Much Do Wedding Cakes Cost?
Wedding cake prices will vary for a few reasons. Your location, type of cake and who you choose to make your cake will factor into the overall price.
Realistically you can expect to spend anywhere from $3.00 on the low end to $12.00 on the high end per guest. So, for example, 100 guests X $5.00/slice = $500 for your cake.
This is just for the cake and does not factor in other things like a cake topper and knife and server that you may also buy. Why Do Some Cakes Cost So Much? As mentioned above location matters. If you live in or near a major city, like New York or Los Angeles, you will most likely pay more for a wedding cake.
Also, the style of your cake will be a factor.
Fondant
will definitely cost more than butter cream, and cake fillings can also increase the cost.
Specialized cake designers will tend to be more expensive than a baker, however the options a cake designer can offer are often worth the extra cost.
Cake decorations also factor into price. Using fake flowers instead of real flowers can help to keep costs down, but sugar flowers are also a great option.
Balancing your cake wants as well as meeting your budget can be challenging, so try to weigh all of your options when narrowing down your choices.
What Other Expenses Are Involved?
In addition to the cake, you may also want to buy a specialized cake topper to match your
wedding theme
or
wedding color
.
Also, a box for you to save the top tier and favor boxes for your guests is something to consider. A knife and server set is something else that you may want to consider buying.
If you choose to not go with the cake your reception space offers and you bring in your own cake, discuss this with them. Ask if there are any additional charges as you may have to pay a cake cutting charge to the reception space even though they are not providing the cake.
How Can I Make The Best Decision?
Our best advice is to always set a budget. How important is your wedding cake to you, and what style of cake are you thinking about? This will all factor into how much you should budget for your cake.
Shopping around is also a very good idea. If your reception space offers a cake, taste it and make sure it is what you are looking for.
Do you want your cake to taste good, look good or both?
Fondant
may look really nice, but it often does not taste that great.
Once you have an idea about what type of cake you want, visit with several bakers, cake designers and reception spaces. Taste test and ask questions.