Your Questions Answered
About Honeymoon Cruises
There are many options when planning your honeymoon, and honeymoon cruises can be a fun alternative. Cruises offer something for everyone, from activity filled days to relaxing on a beach.
There are many different types and locations to choose from. To help you sort everything out, we listed four common questions below with answers and information.
As with any type of travel, be sure to read reviews and research the ships you are considering. Feel free to contact us if you have additional questions.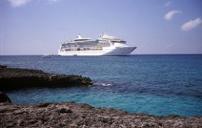 Cruise on your Honeymoon
Why Honeymoon Cruises?
Cruises offer a unique way to spend your honeymoon. Here is a list of why you should consider one:
Visit several locations instead of just one. Cruises typically stop at three or more ports giving you several mini trips along the way.


They are easy on the budget. All-inclusive packages typically include accommodations, dining options, entertainment and more. Alcohol and spa treatments are usually not included.


Plenty of activities. If you are looking for a little adventure, you will find many options including day trips, water sports and fun onboard activities.


No shortage of romance. Cruising is one of the most romantic things you will ever do as a couple. Moonlit walks on the deck and first class accommodations help to set the mood


Easy and Convenient. If you live near the coast, chances are you can drive to board your cruise. Avoiding airline travel saves money and the potential hassles that come with it.
What Type of Cruise Is Right For Us?
Whether you want an active or calming experience, cruises have it covered. Here are some ideas:
Kid or no kids? If you don't want to be around a lot of children, avoid cruise lines like Disney and other ships that cater to families.


Activities are a big part of many ships. If you want an active honeymoon, this should be an area that you research. Make sure the ship you choose has enough activities to keep you interested.


Many locations. Popular cruise locations include the Caribbean, Mexico, Alaska, Europe and Hawaii. Longer cruises usually make more port stops and allow you to take more excursions.


Dining options. Most ships have several restaurants. Things to look for are the number of restaurants and bars, extra charges for some restaurants and how many meals that your package includes.
How Should We book Our Cruise?
Packages for Honeymoon cruises are typically offered by most travel agents. If you tell them the type of cruise you are looking for, they will be able to give you several options to choose from.
Booking a cruise on your own is easy with the help of the Internet. Any of the major travel websites run specials throughout the year, and there are many cruise-specific websites that offer reviews.
If you decide to book on your own make sure you do enough research to make an educated decision on your chosen cruise line, accommodations and dining packages.
What Else Should We Know About Cruises?
Here are some additional tips to make your experience the best it can be:
Combine your cruise with a land trip. For example, book a 5 night cruise out of Miami and spend 2 additional nights before or after at a beach resort.


Book excursions online prior to leaving for your cruise. This can save you money and time.


Last minute bookings can save you considerably. If you aren't that daring, try to book at least six months in advance to get the best deal.


Don't forget to tell them you are newlyweds! You will get special treatment, so take advantage of it.


If you are big drinkers, watch your alcohol budget. This can really add up if you aren't careful.


Don't forget your passport. You will need it to get on the ship and for excursions.


Trip insurance is not a bad idea, especially if you are going anywhere near hurricane season.


If you are going to splurge at all, go for the ocean view cabin. They are typically nicer rooms, and waking up to a sunrise over the ocean is definitely worth it!
More Cruise Resources
Bermuda Cruise Honeymoon
- Spend your honeymoon on pink sand beaches.