Sail Away On A
Bermuda Cruise Honeymoon
A Bermuda cruise honeymoon is the perfect combination for a successful honeymoon. The beautiful pink sand beaches of this tropical island along with the elegance of a cruise ship make it a setting that is second to none.
Honeymoon cruises
are a growing trend, and there is no better destination than Bermuda. If you are considering a honeymoon cruise, Bermuda should be at the top of your destination list.
All About Bermuda
Many people don't realize that Bermuda is actually a collection of 138 islands, with its Main Island often referred to as Bermuda. Known for its
pink sand beaches
and crystal clear blue water, Bermuda is a British territory with a thriving economy based on the financial industry as well as tourism.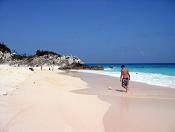 Bermuda Beaches
There is a local currency that it is tied to the US dollar, however the US dollar is widely accepted. There are many great restaurants, bars and sightseeing opportunities throughout the islands to keep you entertained.
Rum
is the favorite drink of the islands with Gosling and Horton brands making their homes here. All of this and a laid back island mentality make this the perfect location for relaxation and fun.
When To Go
Bermuda has a mild sub-tropical climate that is
warm
and humid during the summer and not usually colder than 60° in the winter. Such mild temperatures make this a location that can be visited year round.
However, Spring and Summer are the most popular months. Due to its location, hurricanes are definitely a concern in the Fall. Bermuda has had a very proactive approach over the years to preventing severe hurricane damage, so there is rarely any major damage incurred.
You will probably want to avoid hurricane season for cruising, however. Although the islands themselves might be able to withstand a hurricane, most cruise ships will not sail through dangerous conditions at sea. It is better to avoid the chance that your honeymoon might get cancelled.
Cruise Lines Visiting Bermuda
Eight ports on the East coast of the US serve as the starting point for a Bermuda cruise honeymoon. Boston, Philadelphia, New York, Cape Liberty (NJ), Baltimore, Norfolk, Fort Lauderdale and Charleston all have ships that sail to Bermuda.
Known for luxury and high quality,
Princess
cruises offers it's Personal Choice Cruising program for your convenience. A nine day cruise will take you to San Juan, St. Thomas, and Grand Turk along the way.
Royal Caribbean
has been bringing honeymoons to Bermuda for many years. Five night cruises leave from Norfolk, Cape Liberty (NJ) and Baltimore. The ships offer many activities to keep you busy, or if you want to relax there is ample space to lounge on the deck.
Norwegian
offers 7 and 8 day cruises from Charleston, Boston, Philadelphia or New York. Freestyle cruising allows you to experience many different dining and bar options.
Cruise lines offering one voyage per year to Bermuda:
Carnival
is known for quality cruises at affordable prices, offering one 6-day cruise per year to Bermuda in April.
Celebrity
offers an upscale cruising experience with five-star dining options and spas. They currently offer an 11 day autumn cruise from Cape Liberty (NJ).
Costa
offers Italian style cruising to Bermuda in April. Leaving from Ft. Lauderdale, the 7 day cruise also makes a stop at Nassau in the Bahamas.
Excursions While On Land
There are many options while onshore during your Bermuda cruise honeymoon. Bermuda is one of the best locations in the world for snorkeling and scuba. Clear blue water and beautiful coral reefs are the setting for hours of fun under the water.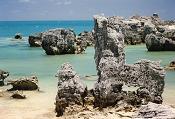 Bermuda Excursions
For active visitors options include golfing and tennis, or spend the day cycling or running the Railway Trail. The temperate climate is
perfect
for sailing and fishing as well.
There are many museums and tours available as well where you can learn about the history of Bermuda and everything else that makes these islands great. Crystal Cave is a fun way to learn about stalactites and stalagmites while seeing a true natural wonder.
And don't forget
shopping
and
dining
! From English pubs to five-star dining experiences, you have many delicious options to choose from.
Quaint shops and stores can be found in Hamilton, St. George's or Dockyard to meet all of your shopping needs. Don't forget to pick up a Horton
Rum Cake
to bring home to finish off your Bermuda cruise honeymoon!