Finding A
Camouflage Wedding Gown
If you or your fiancé are in the military, a camouflage wedding gown might be a great choice for your wedding. Or, perhaps you are into hunting or just want to wear a gown that is completely different and unique.
Whatever your reason, you can look and feel great wearing a camouflage dress. In addition to your gown, there are many great accessories as well as
wedding night
lingerie
.
Camouflage Wedding Accessories
In addition to your dress you won't want to forget camouflage wedding accessories for your big day. This includes your garter (shown below) and items for your reception like a unity candle, ring pillow, pen set and guestbook.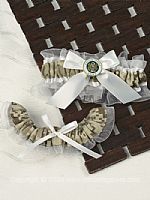 Camouflage Wedding Garter
Camouflage Wedding Lingerie
Finishing off your wedding night with camouflage wedding lingerie can be the perfect ending to a perfect wedding day. There are many fun and sexy outfits that you can wear to drive him crazy.
Wicked Temptations has a great selection of
military and camouflage lingerie
.
Camouflage Dresses
A site with impressive collection of camouflage gowns is
Simply Formal
. We have no experience with them, but they have one of the best selections we have seen online.