10 Steps To Perfect
Wedding Reception Protocol
While no two weddings are exactly the same, certain wedding reception protocol can usually be applied to the order of events. Regardless of your race or religious background, most wedding receptions follow a very similar path.
While the basic structure is the same, there can and will be things that you might want to do a little differently along the way. Keep in mind that in modern wedding planning almost anything goes.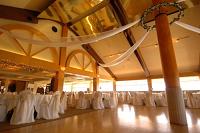 Wedding Reception Protocol
To help you start planning your wedding reception, we decided to put together 10 basic steps as a template. It can be used as a starting point where you can add, remove and modify any of the steps to meet your individual needs.

Need help pulling it all together? Consider hiring a wedding planner to coordinate the day.
Here are the 10 steps to wedding reception protocol:
Cocktail Reception
Wedding reception protocol all starts with cocktail hour. You will be waiting with your bridal party somewhere away from the rest of the guests as they enjoy passed hors d'oeuvres and their first drink of the night.
Often there is entertainment during cocktail hour like a quartet or trio. This is also a great time to have photos taken at your reception location.
The Entrance
Your guests will take their seats in anticipation of your grand entrance as husband and wife.
The typical order of announcement starts off with both sets of parents (sometimes grandparents as well), followed by the bridal party and finally you are announced as the newly married couple for the first time.
First Dance
Immediately after you are announced you can go directly to the dance floor for your first dance. This first dance is just for you, however you can have your parents or the bridal party join at the end if you so desire.
At the end of your first dance your entertainment can continue until it is time to eat.
Dinner is served
A prayer or opening remark from the master of ceremonies leads you into the meal. While everyone is eating is usually the time when you will make your way around to talk to all of your guests.
Remember to sit down at least for a few minutes and eat the lovely food you have chosen for your wedding reception.
A growing trend during the meal is to have a montage of photos projected onto a wall displaying photos of you both growing up and throughout your relationship. Also, some videographers now have the ability to quickly edit your ceremony so it can be shown in a similar fashion during the reception.
The Speeches
Typically one of the more emotional parts of your reception, wedding speeches take place after the meal has been served. The best man leads things off followed by the maid or matron of honor.
It is also OK for either of you to give a speech if you want to. Visit our
wedding speech
guide for hints and help with writing speeches.
Dance The Night Away
Enjoy the music of your band or DJ and have fun dancing with your guests. Mother/son and father/daughter dances can also be an emotional part of your reception. Find songs that mean something to both of you.
Depending on your style and the desired mood of your wedding reception, congo lines and other famous line dances can be a lot of fun. A good band or DJ can keep the dance floor packed.
Cut The Cake
The big question is usually whether you will be nice to each other or shove a piece of cake into each others face. This can also be considered part of the entertainment for your guests.
Other desserts along with coffee and tea can also be served during this time. Visit our
wedding cake idea
guide for more cake ideas.
Optional Fun Stuff
Traditional favorites include the garter and bouquet toss as well as any religious or ethnic traditions like the Hora or jumping the broom.
Fun dance options include the dollar dance (pay $1 for a dance with the bride or groom) and the anniversary dance. Have all married couples invited to the dance floor, and then couples are eliminated by the number of years they have been married (under 5 years, under 10 years, etc.).
You are eventually left with the couple who has been married the longest. Have a bouquet or small gift set aside to give to them as thanks.
The Exit
Traditionally couples leave at the end of the reception after saying goodnight to their remaining guests. If you really want to make a grand exit, consider fireworks or leaving in an exotic car.
It is never acceptable, however, to have a sneaky exit where your guests are wondering where you are.
After Party
This is the last step of wedding reception protocol. Today it is common for there to be an after party held typically at the hotel bar where most guests are staying.
Since your guests will have probably been drinking for several hours it is a good idea to have the after party where most if not all of them are staying.