The Ultimate Guide
For Your Vegas Honeymoon
If you are looking for the perfect honeymoon spot in the US, you should consider a Vegas honeymoon. Where else can you enjoy the luxuries of first class casino hotels, four star dining, world-class shows and all night partying?
A honeymoon in Las Vegas can be anything you want it to be. Some people think of Las Vegas as only a place to gamble, however it has turned into a destination with many activities to do and things to see.
Las Vegas also means
romance
. Five-star resorts and world-class restaurants and shows allow you to kick off your new life together in style.
Where To Stay
There are many great, romantic hotels to stay at for your Vegas honeymoon. Below is a listing of our top five choices.
1. Wynn
Romance comes easy at this award winning resort. You will be able to pamper yourselves as you enjoy some of the best dining, spa and overall romance that Las Vegas has to offer.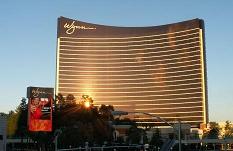 Wynn
2. Bellagio
The Bellagio is still the standard when it comes to luxury and romance. Even their King and Queen rooms are of the highest quality, and if you have the budget you won't find nicer suites anywhere in Vegas.
3. Paris
As you walk into this beautiful hotel you will feel like you are in Europe. Complete with a replica of the Eiffel Tower, passion and elegance fills the air at this hotel.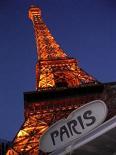 Paris
4. Red Rock
Located off of the strip, a Vegas honeymoon at Red Rock can be relaxing as well very romantic. No corners were cut when designing and furnishing this resort, and you can rest assured that you will be treated like royalty during your stay.
5. Venetian
This all-suite hotel on the strip gives you enough room to stretch out and enjoy your honeymoon. Boasting distinctly modern European design, romance is not difficult to find here.
Things To Do
There is something for every honeymoon couple in Las Vegas. From romantic to adventurous, we have listed a few examples below.
Never Leave Your Room - With so many beautiful and romantic rooms in Las Vegas, it is tempting to spend your entire honeymoon nestled away in your room or suite. Remember, Vegas doesn't sleep, so if you want to eat at 4:00am or have an in room couple massage just pick up the phone.



Take a Helicopter Ride - If you are feeling adventurous you can see the lights of the strip from above. This is the perfect nightcap to a romantic honeymoon evening.



Bellagio Fountains - This is a must during your trip. This beautiful display will get your passion rising.



Gondola Ride - Take a relaxing, romantic trip at the Venetian. You will think you are in Italy.



A Day At The Spa - Get a couple massage, or each of you can choose from any of the many spa options available.



See a Show - Vegas has lots of options in this area. See a sexy revue, Broadway show or any of the Cirque du Soleil shows to spark your romance.



Golf - Many fine golf courses await you in Las Vegas. Great for couples or a day for the groom, Vegas has become a hot spot for golf lovers.



Day Trips - Hiking at Red Rock Canyon, a day at Lake Mead and a trip to Hoover Dam are all within an hour of the strip and sure to add some adventure to your honeymoon.



Romantic Dinners - Hundreds of terrific restaurants await you on your Vegas honeymoon. Try a new, romantic spot each night.



Shop Till You Drop - With an ever expanding range of shopping options, you will never run out of stores to visit.



Party All Night - This is an area that Vegas specializes in, and there is no shortage of bars and clubs to entertain you until the sun rises.



Renew Your Vows - Often paired with the previous entry in our list, options include drive through, with Elvis and any theme imaginable.