Ontario Weddings - Find Your Vendors!
Ontario weddings can be any type of event, from a big city party to a
country wedding
. Easily accessible from just about anywhere, Ontario has a lot to offer the newly engaged couple for their big day.
Hockey fans know this is a great area to get married, and you may even want to consider having a hockey
themed wedding
. For out of town guests, consider organizing an outing at a Senators or Maple Leafs game.
Regions of Ontario
If you are looking for a city wedding,
Toronto
offers many high end wedding spaces including hotels and resorts. For outside weddings consider the Toronto Botanical Gardens, a winery or one of the many Inns in the area.
The capital city of
Ottawa
also offers a variety of unique locations for your wedding. In additon to the many hotels and traditional wedding spaces, options include farms and bed and breakfasts which offer a country setting as well as artistic choices including the National Gallery and the Museum of Nature.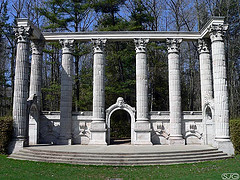 Photo courtesy of sjgardiner
There are many lakes, rivers, gardens and parks in Ontario that can not only make good backdrops for your wedding photos, but they also might make a good choice for an outdoor wedding.
Niagara Falls
is a major attraction and has been the perfect location for many couples exchanging their wedding vows. Guests will like the ability to spend an extra day or two if they are traveling from out of town.
Ontario Vendor Listings
Toronto
Wedding Photography Blue Colibri






Do You Own A Wedding Business?
Get listed today.