New Jersey Weddings - Find Your Vendors!
When planning New Jersey weddings, many people may not think of beaches, rolling hills and beautiful country estates, however all of these can be great locations for your big day.
Not only are there great choices for a location, the Garden State also offers four distinct seasons unlike some other areas of the country. So, you can enjoy the fall foliage, winter snow, spring sunshine or summer flowers on your big day.
Regions of the State
Hunterdon and Somerset counties offer
picturesque settings
and a backdrop that includes rolling hills, horse farms and historic churches and reception spaces. Towns like Lambertville, Clinton and Far Hills offer everything you could ever want for a
country themed wedding
or an outside reception under the stars.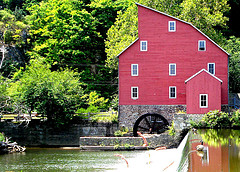 Photo courtesy of Futilewastedeffort
NJ weddings fit perfectly at the shore, and there is a long coastline that offers many great
beach wedding
options for tying the knot. Northern beach communities like Belmar and Spring Lake offer a great location for couples looking for a
destination wedding
closer to new york or northern parts of the state.
Cape May is the perfect beach town with many inns and bed and breakfast options. Long Beach Island offers several towns that centrally located and easy to get to as well.
If you want to have a city wedding, places like Hoboken and Atlantic City offer upscale options as well as close by entertainment.
NJ Wedding Vendor Listings
No NJ Wedding Vendors listed yet.
Yours could be first!
Get your wedding business listed today.