Give Each Guest An
Individual Wedding Cake
An Individual wedding cake for each guest at your reception is a fun alternative that is becoming more popular. Instead of having one large cake, having mini wedding cakes means your guests will get one all to themselves.
There are many choices when it comes to choosing your
wedding cake
. You will have to decide on the flavor and design of your cake as well as any decorations you will use like flowers or
cake toppers
.
Mini cakes are a little different, and you may have additional questions that you need answers to.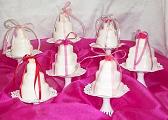 Listed below are answers to three questions about individual wedding cakes:
What Are The Benefits Of Individual Cakes?
First, an individual wedding cake for each guest is a lot of fun, and it adds a unique twist to your wedding. It's not every day that you get your own cake at a wedding, so your guests will love it.
You are also not limited to one wedding cake design. Many bakers and cake designers will allow you to have multiple designs for your mini cakes.
One of the biggest benefits is that mini cakes are easy and don't cause a big mess. Packaging up slices for your guests to take home can be a headache, but letting them take home their own cake is very simple.
How Can I Use Them In My Wedding?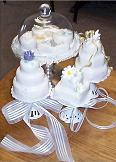 Even if you decide you want to go with mini cakes, you will still probably want to have a single tier cake for you to cut. This can match or have a design similar to the individual cakes you are giving your guests.
Individual cakes can be used as part of your centerpieces. For example, you can have them sitting in a circle at the center of your
reception
tables, and in the middle you can have your
floral centerpieces
.
They can also double as your wedding favor. Instead of giving out items that your guests may never use, you can almost be certain that they will enjoy the cake.
What Else Should I Know?
Individual cakes come in many shapes and sizes, similar to what you might see for a larger wedding cake. Multi-tiered cakes are very popular, and they can also be found as squares.
One thing to note about cost is that many bakers and cake designers will often have a minimum amount that you will need to buy. Keep in mind that you will be avoiding the cutting fee that most reception spaces charge.
Take the time to research bakers and cake designers. This type of cake is somewhat new, so be sure that who you go with has experience with mini cakes. Always taste test before buying!