Brides Guide
To Wedding Photography
Interview: Andrew Gardner
Today we are pleased to offer an interview with Brides Guide To Wedding Photography Owner Andrew Gardner.
Andrew Gardner With His Wife
Andrew's photography company serves Essex (near London) and provides couples simplicity, affordability and at the end your own handmade wedding album.

We are excited to provide this glimpse into the life of a photographer while offering you information about wedding photography in general.

---
1. Hi Andrew, thanks for spending a few minutes with us today. Please take a few moments and briefly tell us about yourself, your website and your business, The Boutique Photography Company.
I'm 27, just celebrated my 5th wedding anniversary, and my wife is pregnant with our first baby! I live near a tourist town called Southend-on-Sea, which is about 30 miles east of London, England.
I've been photographing weddings for three years – and it's the perfect job for me. It combines my observing, nostalgic nature with the desire to run my own business. And I love the contrast of working at my own pace from home during the week, with high-pressure adrenaline-fuelled wedding days!
The Boutique Photography Company is all about quality. We're more of a small-scale boutique than a high street chain store. We use the best products available, like bespoke handmade wedding albums and handmade frames.
www.brides-guide-to-wedding-photography.com
has been going for over two years now. I started it because photographers tend to use lots of complicated jargon on their websites. Some of it I don't even understand! So I created the site to give a simple and clear overview of wedding photography for couples getting married.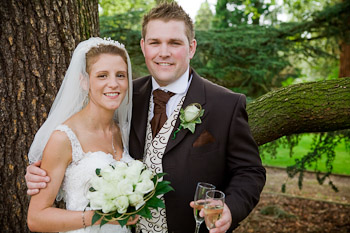 Bride and Groom
2. What type of camera(s) do you own? Do you shoot all digital, or do you still use film and develop your photos?
I'm currently using the Canon 5d. I grew up shooting film and film will always be special. But I love the advantages of digital, in particular, creating black and white images and
designing wedding albums
.
3. When you aren't shooting weddings, what else do you enjoy taking photos of?
My passion is documenting life. I take photos of the people I love. A lot of my friends have young children and babies, and they're just so much fun.
I don't photograph landscapes and things like that. In 30 years time I'm not going to look back at landscape photos I might've taken and reminisce about how special they are. But just like wedding photos, pictures of my friends and family will be priceless.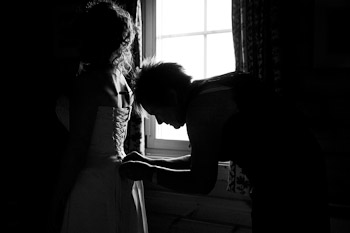 Bride Getting Ready
4. You provide a nice description of the different wedding photography styles on your website. How would you characterize your wedding photography style?
My style is positively documentary (or reportage), but my goal is
intimate wedding photography
. I'm the sort of person that blends into the background and goes unnoticed! It's great for wedding photography as I can take pictures without people realising, so they can concentrate on having fun and celebrating their wedding.
A father-of-the-bride once said to me that he wasn't expecting much from the photos because he only ever saw me wandering around. Fortunately he was very pleasantly surprised!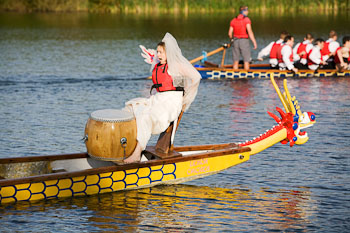 Bride in a Boat
5. Before starting The Boutique Photography Company you worked in television. How has that experience helped or influenced your current work as a wedding photographer?
It prepared me for long days, stress and pressure! I worked on the first two series of Gordon Ramsay's F Word, so you can imagine what that was like! Before that job I'd independently made an observational documentary about deprived kids in a youth club.
It won a Royal Television Society award as well as a national competition. This was when I started loving the documentary genre, and realised I was good at it. That's how I shoot weddings, as a though I'm creating a documentary of the day.
6. What are some new trends in wedding photography that we can expect to see in the future?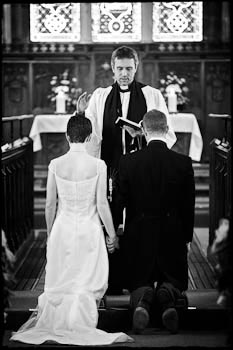 Bride in a Boat
The future's looking interesting for wedding photography. Digital SLR cameras are getting cheaper and the quality's improving all the time. So more people are now photographing weddings as a sideline business.
This means professional photographers will have to try and compete on price (difficult to do with business costs and overheads). Or they go the other way and move upmarket by offering higher quality products and services.
I think there will always be fads within wedding photography. A few years ago it was slanting angles and spot colouring (making a certain part of the photo colour while the rest is black and white).
Popular trends at the moment include the
wedding coffee table book
and the
magazine style wedding album
.
But the most important thing to remember is that wedding photography is all about the images. Good wedding photos don't date, they're timeless. You should be able to look at wedding pictures and feel all the love, joy and emotion of the wedding.
---
Thanks again, Andrew, for spending a few moments with us today. Best wishes for your company and of course good luck with your soon to arrive baby!
For more information visit
Brides Guide To Wedding Photography
.