Blue Wedding Theme
by Ashley
(Fort Worth, TX)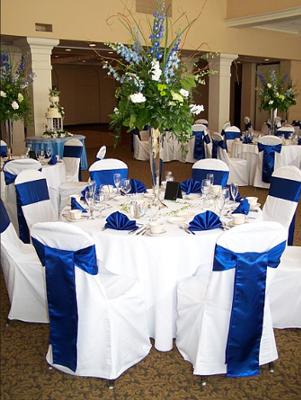 My name is Ashley. My wedding colors are royal blue/silver with baby blue/white. How do I incorporate all these colors into my reception as far as the centerpieces, wedding favors, table cloths, chair covers, and sashes without overwhelming one color?


I don't know what color each item should be in. I am doing long tables and my main color is royal blue. Please help!!
Our Thoughts
The best advice after years of designing and running events is to let one color, like your Royal Blue, take center stage. You have to let one of the colors be the star while incorporating the other colors into your design as highlight colors or else your design will look too chaotic.
So if you have deep jeweled tone royal blue table cloths as your main linen on the table, have a silver thick sash down the middle of the table as an accent piece - which looks great on the long family style table. You could have all the tables look like this or you could mix it up a bit and also include silver cloths with a royal blue sash down the middle.
If you are using floral centerpieces, allow a floral designer to incorporate the softer pastel colors of white and baby blue flowers to the desired color scheme. You can even add a bit of silver sparkle to the florals to catch the light in the evening setting, but be cautious not to add too much or it will look cheesy.
As for the chair covers, I am not a fan of the cover and would rather bring in a Chivari wood chair to really dress up the place. But if this is not in the budget and you truly do not like the chairs provided, keep them as simple as possible so as not to take away from your event table.
Your tables are where everyone's eyes should truly be focused, and always remember the chair after one's derrière is in it will not been seen. Have a little fun with the whole design element and enjoy your BIG day!
To Your Wedding!
Danielle & Stephen