Big Mix Mobile Disco Interview:
Darren Jeffs
Today we are proud to bring you the following Big Mix Mobile Disco interview with owner Darren Jeffs. Darren has done a great job of building his wedding entertainment business, and we are happy that he could take a few moments to speak with us.
Darren Jeffs
Big Mix Mobile Disco
is more than just a typical boring wedding DJ. They provide entertainment for your UK wedding that will keep your guests
entertained
and on the dance floor.
Now on to the Big Mix Mobile Disco interview…
---
1. Please take a moment to introduce yourself to our readers, and tell us a little bit about your company, Big Mix Mobile Disco.
A Big hello to all you wedding guide idea seekers!
My names Darren and I run
Big Mix Mobile Disco
, which is a professional mobile disco entertainment service. It currently operates within the Northamptonshire and Warwickshire area (UK) providing professional entertainment for wedding's, birthday's, corporate events, Christmas and New Year's Eve parties.
Big Mix Mobile Disco
is a new business, but I have been a professional DJ now for almost 10 years, with customer feedback provided by my customers over the years to prove my ability to entertain an audience, to make it a night to remember.
2. How did you first get started in DJing? How would you classify your DJing style?
That's a good question, I first got into DJ'ing when I was 17 years old and ever since I can remember I've always had a big passion for music and when I first saw a live mobile disco, I was hooked.
So I went on to learn how to do it, which was back in 2000 when I started out as a roadie, having the opportunity to get behind the decks every now and again. Slowly I gradually built up to become a DJ for the company, going to gigs on my own, it was so much fun but still didn't seem enough for me.
So I went out to find a more qualified (in experience and judged by feedback etc...) professional mobile disco company to build a steady stream of bookings week in-week out. This is then where I turned my dream into reality and became a professional mobile DJ for a company called big mix entertainment.
I was a DJ partner to this company, where I learned all the behind the scenes of a disco service, the truth and the realities of it all. I've never looked back since…
The best way to describe my disco style, hmm it's a tough one. I'm known for my ability to get the party going and to keep the party going.
I'm not the type to just turn up, play a few records, then go home again, it's all about building an atmosphere. I love to interact with guests; I have a bubbly personality and love to get involved, basically to be a part of the party and not just to contribute to it.
No one disco ever being the same, but always remembered for providing a friendly and enjoyable experience.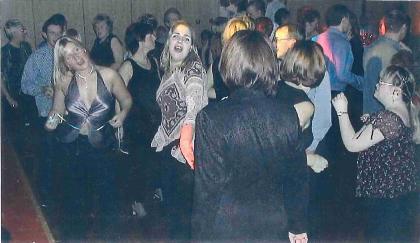 People Dancing
3. You give a nice overview of tips for booking DJs or hiring a mobile disco on your website. What is the best advice you could give a couple that is just starting to plan their wedding entertainment?
My best advice I could give you is to take your time in choosing an entertainment provider, you wouldn't rush buying a wedding dress or a cake for example, you'd be sure to do some research and even ask your friends and family for any company's they would recommend.
Always be sure to do a little research into choosing your perfect mobile disco service, do they offer interactive tools, do they offer a website, do they come equipped with PLI (Public Liability Insurance) and PAT tested equipment – which is always a good sign of professionalism, what kind of music do they play or are they open to playing requests?
You can be sure in this day and age, any professional and reliable mobile disco service won't come cheap, you pay for the quality and service provided, and it's always a good indicator their taking the service they offer seriously. A cheap service generally means poor service and I personally would never go with the cheapest.
Having said that you don't have to go with the most expensive either, you'll know the right mobile disco service that's right for you.
Don't be afraid to speak to the DJ, in fact I would say definitely speak to the DJ, it's your chance to gauge whether they are truthful, honest, professional and easy to talk to.
4. Tell us about the most interesting or unique wedding you have been hired for.
The most interesting wedding reception I have ever been to would have to be a particular event I performed in a marquee. It was interesting because the happy couple had provided many forms of entertainment which included a bucking bronco, a bouncy castle, sumo suits and even a couple of fairground rides.
I'd never seen so much happening at any one wedding in my life; they even had a spit roast! Ok that's not unusual for a Marquee wedding but brings back some memories I can tell you.
5. What are some of the newer trends you are seeing in DJing and wedding entertainment in general?
I find some of the newer trends that are happening are couples are more and more using the DJ's equipment to make their speeches, having a band as well as a mobile disco and some are even using what they call a DIY disco – which I would definitely not recommend to anyone, it looks cheap and it can really spoil an atmosphere.
It's been a pleasure speaking to you all and I hope to see you at your next party, until then…
---
Thanks again Darren for your time and the great advice you provided to brides everywhere in this Big Mix Mobile Disco interview. For more information and ideas visit the
Big Mix Mobile Disco
website.